Private Label Teeth Whitening Kit with Light
Private label teeth whitening kit comes with luxury package which is very popular around Australia and North America. Trial orders is accepted and we do provide customers private label teeth whitening kits service and help them to built themselves brands teeth whitening kits.All teeth whitening products on the website support teeth whitening wholesale and private labeling, welcome to inquiry and order.
4*pcs 3ml (peroxide or non-peroxide) whitening gel also 3 pcs whitening gels 1 pc desensitization gel
1*pc 6 bulbs LED whitening light
2*pc teeth whitening mouth tray
1*pc paper shade guide
1*pc user manual
1*pc high quality box
Private Label Teeth Whitening Kit with Light
This private label teeth whitening kit with light outer package can be customized in different colors with your logo as well as LED whitening light and syringes.
According to your design requirements and the overall design drawing, design the outer packaging of the teeth whitening gel and teeth whitening box with the same color and style.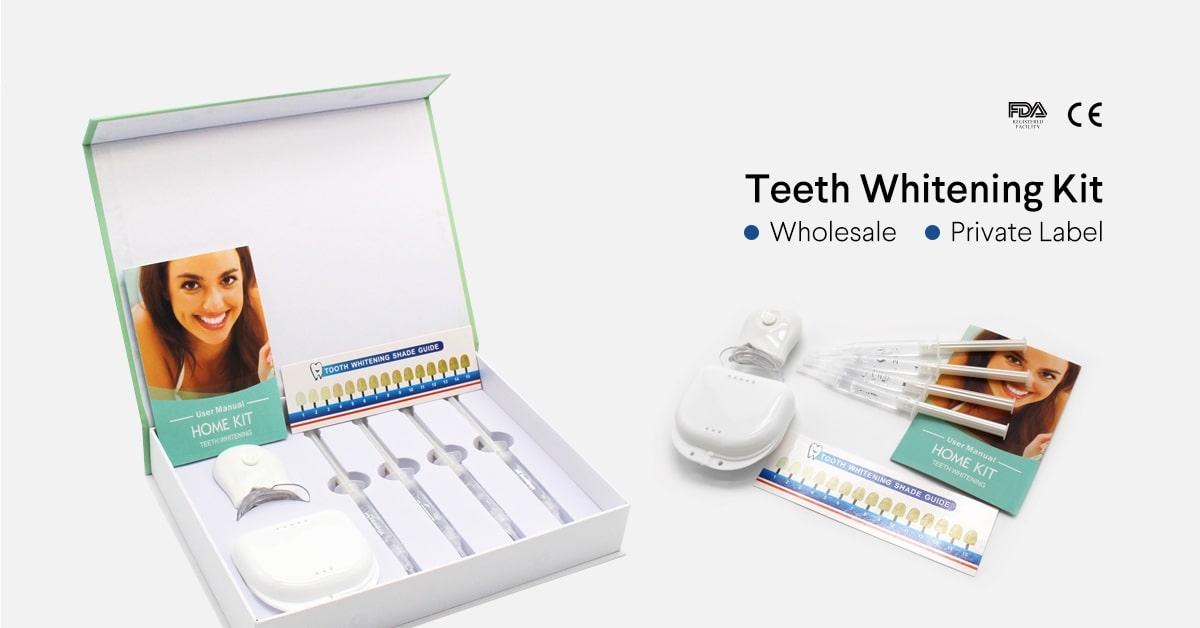 Private Label Teeth Whitening Kit with Light suit for
Teeth stains by cola, tea, coffe, red wine, Tobacco, Food Coloring, Aging and other kind of yellow teeth.
You can change the formula or change the ingredients in the formula according to your needs. Some customers will ask for no vegan gluten or other requirements, we all can do.
The results can improve 4-5 shades, make your teeth beautiful and shine.
| | |
| --- | --- |
| Item Name | Private Label Teeth Whitening Kit with Light |
| Brand | Beautiful Smile or Private label your Brand |
| Certification | FDA, MSDS, CE Approved |
| Usage | Used with whitening gel and light together for daily use |
| Active Result on | Remove Stains of smoking, coffee, tea, drink. Whitening Teeth By Daily Use |
| Active Ingredient | Sodium Chloride / Zero peroxide |
| Function | Teeth Whitening / Tooth Bleaching |
| Payment Terms | Western Union, T/T, or Escrow |
| Deliver Time | Usually 2--3 days Fast Delivery by DHL, FedEx |
Open the back of the LED light and remove the plastic tab below the batteries.
Rinse the mouth tray with warm water (70-80°C), bite the mouth trays with your upper and lower teeth to mold the teeth whitenig tray.
Then trim the mouth trays at the gum lines.
Fill the front surface of the mouth tray on both the top and bottom with 0.5 ml of gel. Insert the light with tray into your mouth and place firmly over your teeth.
Press the power button to turn on the light and whiten your teeth for 30 minutes.
When finished, rinse the mouth tray and your mouth. Store gel in a cool, dry place.
Note: Avoid eating or drinking staining foods or beverages for 1 hour.
You can use this teeth whitening kit at home to relax, waiting for the process, you can use the battery teeth whitening light, you can also use the rechargeable switch red to blue teeth whitening light, maybe someone prefers the teeth whitening light charged with mobile phone, Because we are a teeth whitening manufacturer, support for teeth whitening private labels also supports private customization, so you can have enough choices.
Neutral packaging is to put our own logo on products, the same as we can see our teeth whitening product on the website, customers who do not want to private label the products can choose our neutral packaging, this product does not need time to be customized, you can directly with our sales order purchase.
As a private label teeth whitening manufacturer, we will try our best to meet the needs of our customers. If you just want unlabeled wholesale teeth whitening products, we also provide. As long as the products are seen on the website and you interested, you can send inquiries. Of course, some products are not upload on the website, you can also send an inquiry to get detailed information.
Custom logo available items:
Whitening gel syringe can do logo print.
Whitelight can do logo print
tray case can do logo print
Custom shade guide
Custom manul book
Custom kit box