Romantic Date With You Dubai in 2019
The Middle East Dubai International Stomatology Exhibition (AEEDC) is one of the most influential Dental Stomatology exhibitions in the Middle East. The exhibition was strongly supported by Dubai Chief, Ministry of Finance, Dubai Health Bureau, etc. During the exhibition, there are a number of related to stomatology, dental tooth-related seminars, exchanges and so on. Dubai Stomatology Show (AEEDC) is the world's leading dental equipment manufacturer to showcase their latest products, as well as major manufacturers, dealers to expand their market share in the Gulf region an important way. In the past few years, dental medical career has been rapid growth in the Middle East. The Middle East Stomatology Exhibition is an influential professional dental exhibition in the Middle East. It is also a major gathering of dentistry professionals, dental equipment manufacturer dealers, and dental academic authority. Exhibitors and exhibitors are well received and well received. By attending the Dubai Stomatology Exhibition in the Middle East, it provides a convenient and effective shortcut for many exhibitors to enter the Middle East market.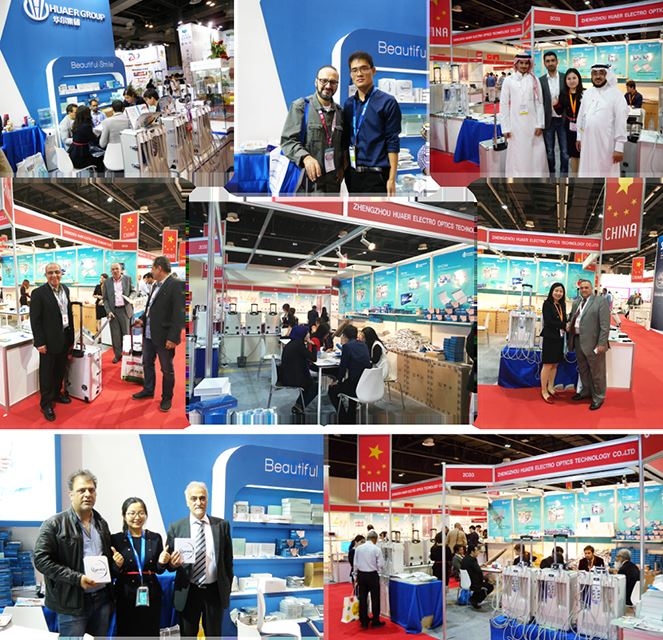 Dubai is a cosmopolitan city, the most populous city in the United Arab Emirates and the richest city in the Middle East. The territory is rich in tourism resources, known as the eighth wonder of the world's archipelago, but also rich desert customs. In addition, there are many of the world's largest buildings, which is superior to Hong Kong's shopping paradise.
November to March of the following year is the best time to travel in Dubai, which is a sunny and pleasant season. At this time, Dubai, you can go to the desert in search of excitement, so that you can experience the rough and free side of the place. At the beginning of the evening, Dubai's nightlife is just beginning, while the Burj Al-Arab hotel will give you a sense of the luxury of being super modern.
In such a beautiful and rich place Feb 5-7th, be with Huaer for a romantic date, welcome to the arrival.
Our Booth No. is : 2B18 Hall 2.