Private Label New Teeth Whitening LED Kit
The wholesale teeth whitening kits, you can customize the concentration and composition, if you have a better idea, please tell us directly. We are teeth whitening manufacturer supply teeth whitening kit and various teeth whitening products with private label service.
| | |
| --- | --- |
| Input power | 4.5-5.3V DC |
| Input currency | 1-3A |
| Battery capacity | 200mA |
| Working voltage | 3.7-4.2V DC |
| Charging time | 1H-1.5H |
| Continuously working time | About 150-200m, 10m/time, could use 15-20times once fully charged |
| LED bulbs power | 0.06-0.1Wx20pcs |
| Color of light | Blue |
| LED Direct voltage | 3.2-3.4v(IF=30mA) |
| Wavelength | 466-472nm |
| Optic angel | 120-140degree |
| On/off Switch type | Touch |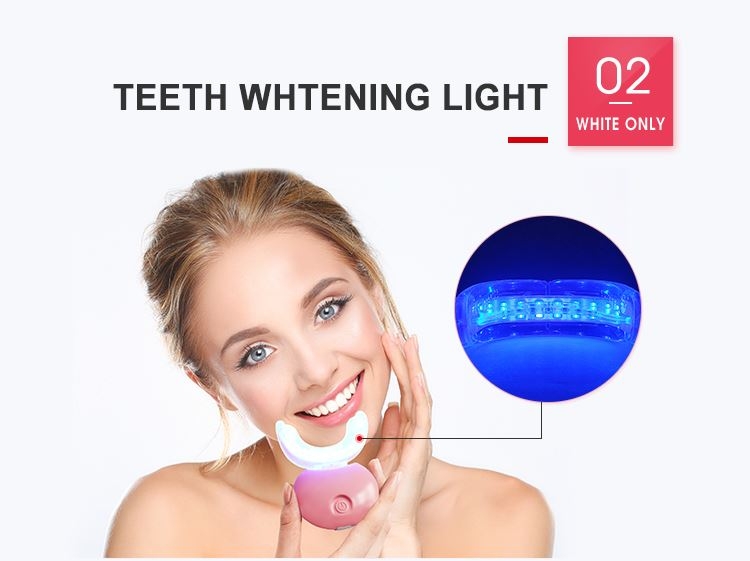 1. Touch button with high-tech,just like smartphone, you can turn it with light touch. Waterproof function can extend life of circuit board than common led.
2. Designed by Japan designer, inspired from pebbles, simple and extreme, thin and light apple mouse thickness.
3. Injection-molded ABS shell material with cobblestone luster, matched with designer's concept.
4. Wireless hand-free led with type-c interface, bring your mouth same feeling as ear with air pod wireless headphones, plus 10 minutes timer function, you can do anything without worry.
5. Upper tray with ergonomico groove design, bring 95% compactness between teeth and gel.
6. Tray with resistance line design, prevent gel slipping.
7. LED with 20pcs germany imported bulbs, can white 20pcs tooth. Sufficient light can accelerate the full decomposition of gel active factor.
1. Containing high quality, viscous whitening gel you can achieve up to 4-8 shades whiter.
2. It safely and effectively removes all external stains on your teeth caused by things like coffee, tea and red wine.
3. Whitening gel strength: 0.1-35%hp, 0.1-44%cp, non-peroxide gel(PAP, sodium chlorite, sodium bicarbonate, and some other ingredients)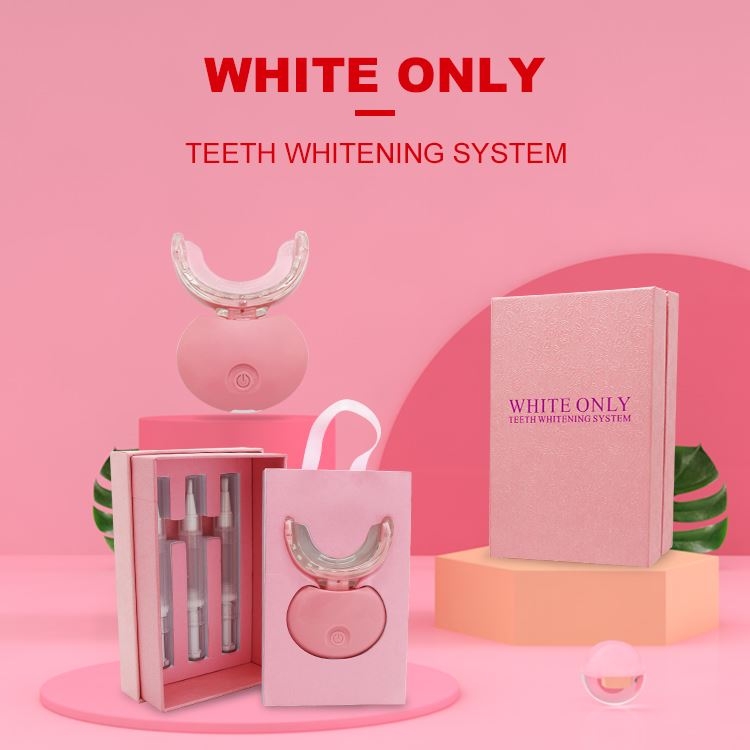 How to obtain product specific information and price
1. Select the product you are interested in, click to send inquiry
2. Fill in the content required by the form, please check the correct contact information, our colleagues will get in touch with you through the contact information you filled in, and send you the information you need.
3. Fill in the service you want, private label or buy products in bulk. The more detailed the better. When our business gets in touch with you, you can reduce your communication time, shorten the entire process as much as possible, and save your time.
4. If you have your own logo or brand, are interested in making private labels, or have other design requirements for your products, please communicate directly with our colleagues. We have a complete product line and will help you produce your own products.
5. If you have any questions during the procurement process, you can always contact our colleagues or send us an inquiry.